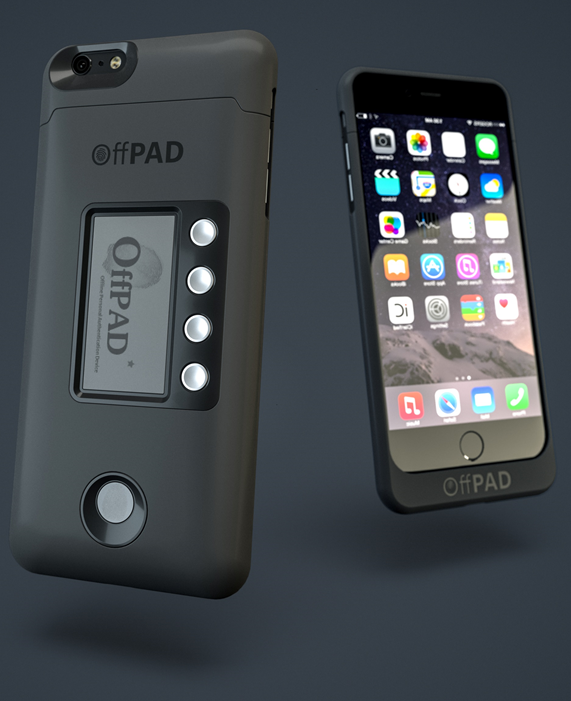 Seventy percent of all computer crimes happen when you log on to the mobile phone and its operating system while you are online. That makes it easier for someone to go through the back door and access sensitive data.
'We have developed a hardware-based solution where sensitive data are moved through our application programming interface (API) to a mobile phone case that is not connected to the internet. The case has its own processor and is an extra barrier against computer crime,' says Jan-Erik Skaug, head of OffPAD.
Together with Petter Taugbøl, he runs the company which was established in spring 2017 together with Inven2. They have already developed a prototype of the product and are now in the process of obtaining funds for further development.
A unique, patented solution
The case and the technology are based on an idea from Professor Audun Jøsang from the Department of Informatics at the University of Oslo, and were developed through a Eurostars project involving academic and industrial partners from Norway and France.
'There is no such solution on the market today. We were granted a patent in the USA in 2017, and another patent application is now in the final stages of the patenting process,' says Skaug.
The company will cooperate with various technology partners to achieve customer-friendly and seamless integration with network systems for companies. OffPAD envisages that companies and authorities using e-health and other critical-to-safety applications will be the company's first customers.
'We are now at a stage where we are focusing on completing a commercial product and are working on setting up test customers and demanding user groups,' says Skaug.
Inven2 looks forward to help the company to further evolve and is a great believer in the solution.
'OffPAD's access control solution is exciting because it significantly improves security while also being easy to use and available at a competitive price,' says Bjarne Tvete, Business Developer Manager in Inven2.
Read more
OffPAD: https://www.offpad.org/
OffPAD is short for Offline Personal Authentication Device.