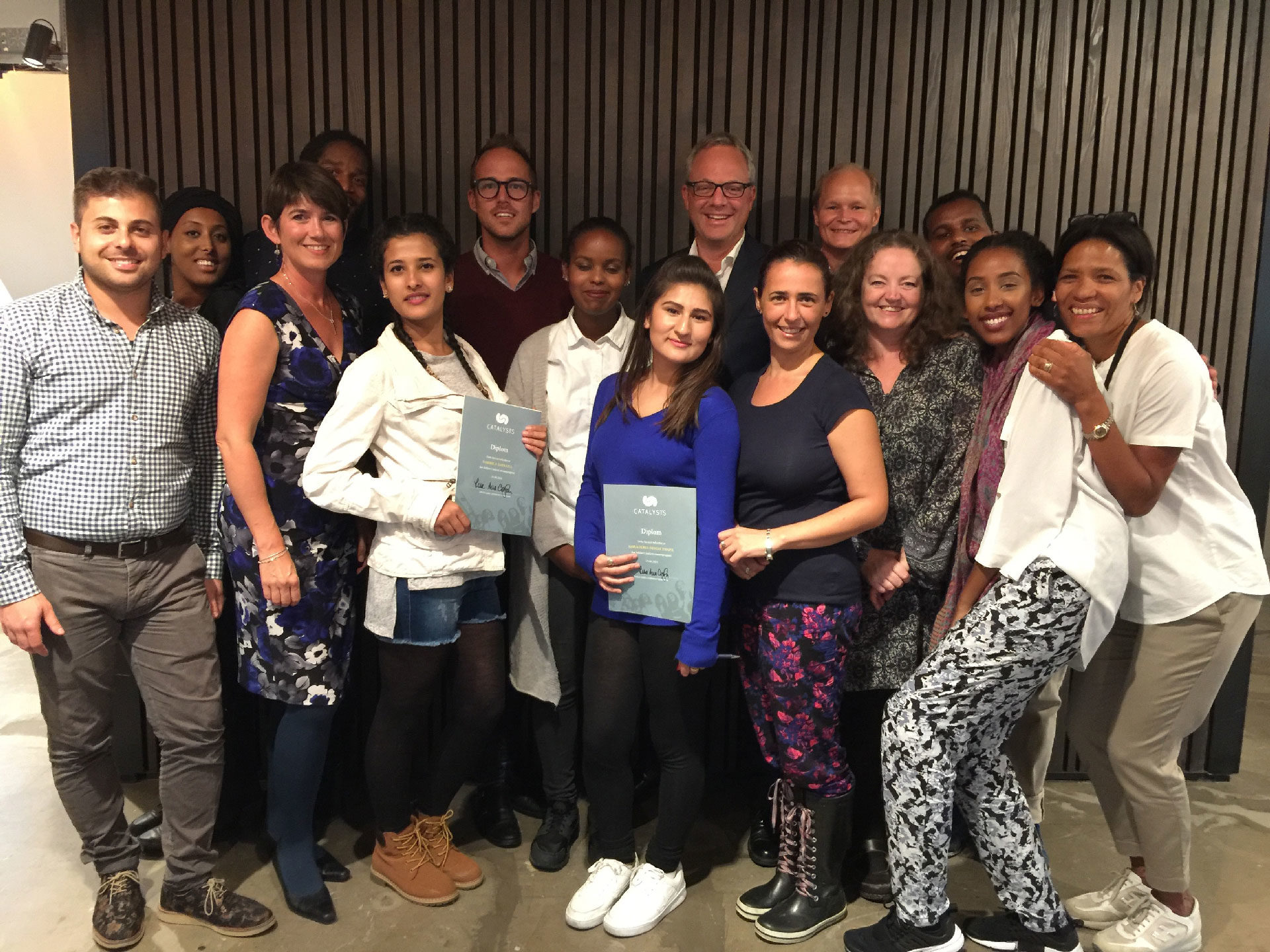 Photo: Catalysts
Lisa Ann Cooper founded Catalysts back in 2011 and is a major success story that is now taking an exciting digital and commercial turn.
Cooper has a background in diversity and diversity management and wanted to work with social entrepreneurship. She established Catalysts with a view to preventing minority youths from dropping out of upper secondary school and thereby out of society when their journey had barely begun.
– We established a mentoring programme to achieve our goal. The pilot conducted back in 2011 included four young people from Somalia and four business leaders. I was amazed by the results from both groups, says Cooper.
After that, things really got going. Today, Catalysts has six employees in Oslo and Bergen, and shortly also in Skien. This means they have a presence in five of the country's 18 counties. Since 2015, 277 young people have taken part in the mentoring programmes. The evaluations show that all of the young people had better self-esteem after the programme and were more hopeful about the future.
Catalysts Technologies – third-generation CSR
By chance, Cooper heard about a digital tool called ReConnect developed by the Center for Shared Decision Making and Collaborative Care Research at Oslo University Hospital. In short, ReConnect is a web-based communication tool where patients, in this case people with mental health problems, can connect with health personnel, with other patients via a café forum, and add information about how they perceive their own state of health, among other things.
– I understood at once that this could be an important tool in our mentoring programme in Catalysts, but it also has much greater potential. We are working on developing a research-based digital platform to strengthen relations between people for use by other customers and in other industries, says Cooper.
She describes Catalysts Technologies, which is the name of the digital commercially-run organisation, as a third-generation CSR tool, where the product itself contributes to a better society.
– CSR 1.0 was about setting corporate social responsibility targets, CSR 2.0 about implementing these targets, while CSR 3.0 is concerned with developing products that are socially responsible in their own right, says Cooper.
Along with her employees, she is well under way with further developing the digital communication tool, and a couple of municipalities have already shown an interest in buying it to use in their work with vulnerable groups.
– The potential and scope of use is vast. Just think about how many lonely people there are in our society. According to Statistics Norway's living conditions survey, loneliness is a growing problem among young and old alike. This is a tool that can help individuals to become acquainted with each other, thereby giving them a better life by strengthening their relations and subsequently their health, says Cooper.
Research from institutions including the University of Minnesota, which Catalysts quotes in its Impact Report 2017, supports this: Good, healthy relationships are an essential part of health and self-esteem. Having strong relationships contributes to people living long, healthy and happy lives.
Looking forward to further cooperation with Inven2
The first investors will soon be finalised in Catalysts Technologies, and Inven2 is already in place as the very first.
– The fact that Inven2 were our very first investor is important to us and gives us credibility in the work with investors and customers going forward, says Cooper.
She praises the collaboration with Ivar Bergland, who is Technology Strategy Manager and Cooper's contact person at Inven2.
– I'm looking forward to our further cooperation with Inven2. They are experts in commercialisation in this field and have been a good sparring partner when discussing alternative business models. I look forward to receiving more good advice going forward. We have everything we need to succeed, says Cooper.
Ivar Bergland at Inven2, on his part, is equally pleased about the collaboration on developing Catalysts Technologies.
– Catalysts Technologies is a groundbreaking project that is different to our usual projects in Inven2. I'm very glad that we can take part in it, because this is the future. Cooper and her colleagues developing a simple digital tool that can be directly used to resolve major social issues on several levels has enormous potential, including internationally, says Bergland.
---
*Ivar Bergland has left Inven2 and now works with innovation at the Research Administration Office at the University of Oslo.