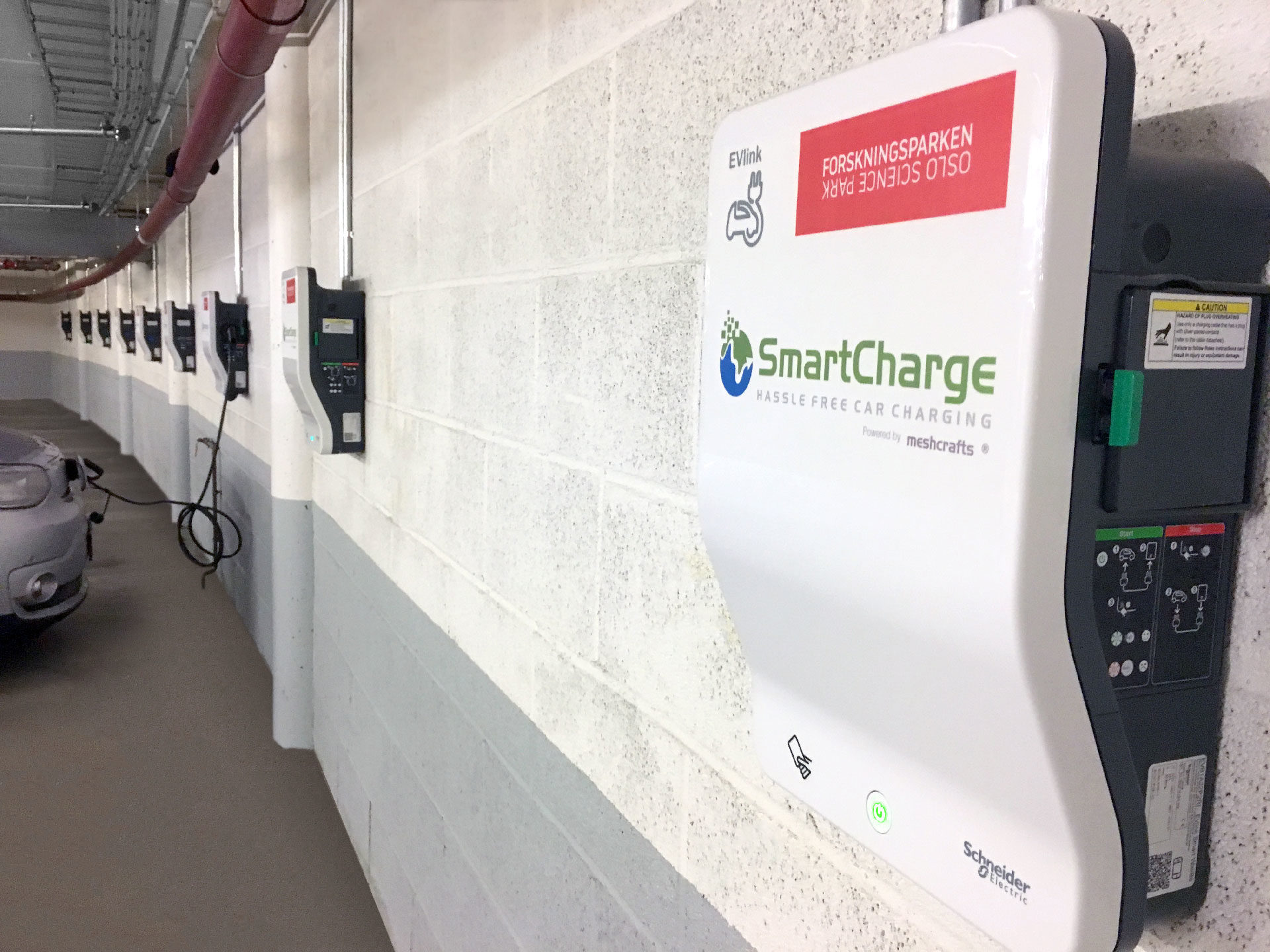 Photo: Meshcrafts
– We wouldn't be where we are today if we hadn't won the Inven2Start competition and received funding from Inven2 to start the company, says Paal Christian Myhre, CEO of Meshcrafts.
Back in 2013, the company focused on developing sockets used for charging electric cars and providing power to marinas.
– After a time, however, we saw that the most important element was management and switched our focus to this in 2016. Now, we can manage as good as all smart chargers on the market and are among the European forefront of these solutions, says Myhre.
This saw the start of the platform and app SmartCharge, which is currently used to operate and manage over a thousand charging stations in housing cooperatives, parking companies and municipalities.
The right price with differentiated electricity
The SmartCharge app makes it easy for you as an electric car owner to find an available charging station near your location, book it and charge there, and not least, you make simple payments via the app and at the right price.
– SmartCharge calculates the price you pay to charge your car based on power consumption and electricity prices, says Myhre. This is in contrast to other systems where you pay for the time the car is connected to the charger, regardless of how much you have charged.
– Our solution is also state-of-the-art in terms of power management when charging electric cars. Norwegians are not that aware of their energy consumption since electricity is cheap. So far, for example, we haven't had differentiated electricity prices at different times of day. We think this will be introduced around 2020, and it will then become important to plan when you are going to charge, as well as when to shower or use your washing machine, dryer and dishwasher. In short, it will mean keeping track of your power consumption and optimising it on a 24-hour basis to minimise costs, says Myhre.
The Germans have an awareness of electricity prices already since they have had differentiated prices for a number of years. Germany is also the market that is expected to have the fastest growth in the use of electric cars. This is why the company now wants to place major focus on the German market, and is on the lookout for investors in order to enter the international market.
Facts Meshcrafts:
Product: SmartCharge Platform and App for power management and electric car charging: Used by over 1,500 private customers and manages over 1,000 charging stations for housing cooperatives/municipalities
Office: StartupLab
Stems from the Norwegian University of Life Sciences (NMBU)
Won Inven2Start in 2013, and has won a number of other awards
Website: www.meshcrafts.com