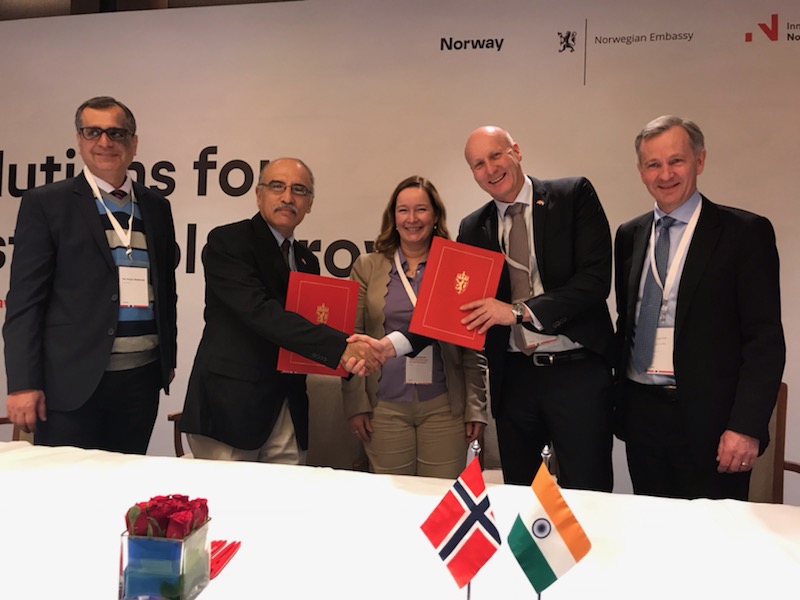 SERCA Pharmaceuticals signed an agreement with the Indian company Cadila Pharmaceuticals on the development of a unique cardiac treatment. Photo: Ken Rosendal, Inven2
The treatment of heart attacks often leads to damage to the heart's muscle tissue. It simply dies because it has been deprived of oxygen for too long, and then experiences an intense influx when the blocked blood vessels are re-opened. There was no treatment for such reperfusion injury, until now.
Based on 20 years of research, the Norwegian start-up SERCA Pharmaceuticals will develop a pharmacological treatment that they think could solve this problem.
In connection with Prime Minister Erna Solberg's official state visit to India, SERCA signed an agreement with the Indian company Cadila Pharmaceuticals on the development of the treatment.
"SERCA Pharmaceuticals is based on groundbreaking Norwegian research. It's very pleasing to land such a good agreement with a major pharmaceutical company just months after the company was established," says Kristin Sandereid, Executive Fund & Business Developer in Inven2.
The company was established in 2018 on the basis of preclinical research on a potential pharmacological treatment for damage arising from the treatment of heart attacks. The research behind the company has been conducted over the past 20 years by Professor Kjetil Taskén's research group at the University of Oslo.
Unique treatment
The treatment that SERCA Pharmaceuticals and Indian company Cadila Pharmaceuticals are set to develop together is based on Norwegian research and is unique and not currently available.
"This contract means a great deal to SERCA Pharmaceuticals. Landing this agreement with a major pharmaceutical company after such a short time on the development of the treatment we have discovered is very promising. The contract is also good and ensures that the product development will be more cost efficient," says Kjetil Hestdal, CEO of SERCA Pharmaceuticals. Hestdal has extensive experience of biotech and the development of medical products based on research through his position as CEO of Photocure.
As part of the agreement, Cadila Pharmaceuticals will use its development organisation to conduct some of the work of developing a new treatment for heart attack patients, which SERCA Pharmaceuticals can then bring to the global market. The new pharmaceutical is based on an invention made by Kjetil Taskén and colleagues at the University of Oslo and Oslo University Hospital, and SERCA Pharmaceuticals was founded by Inven2.