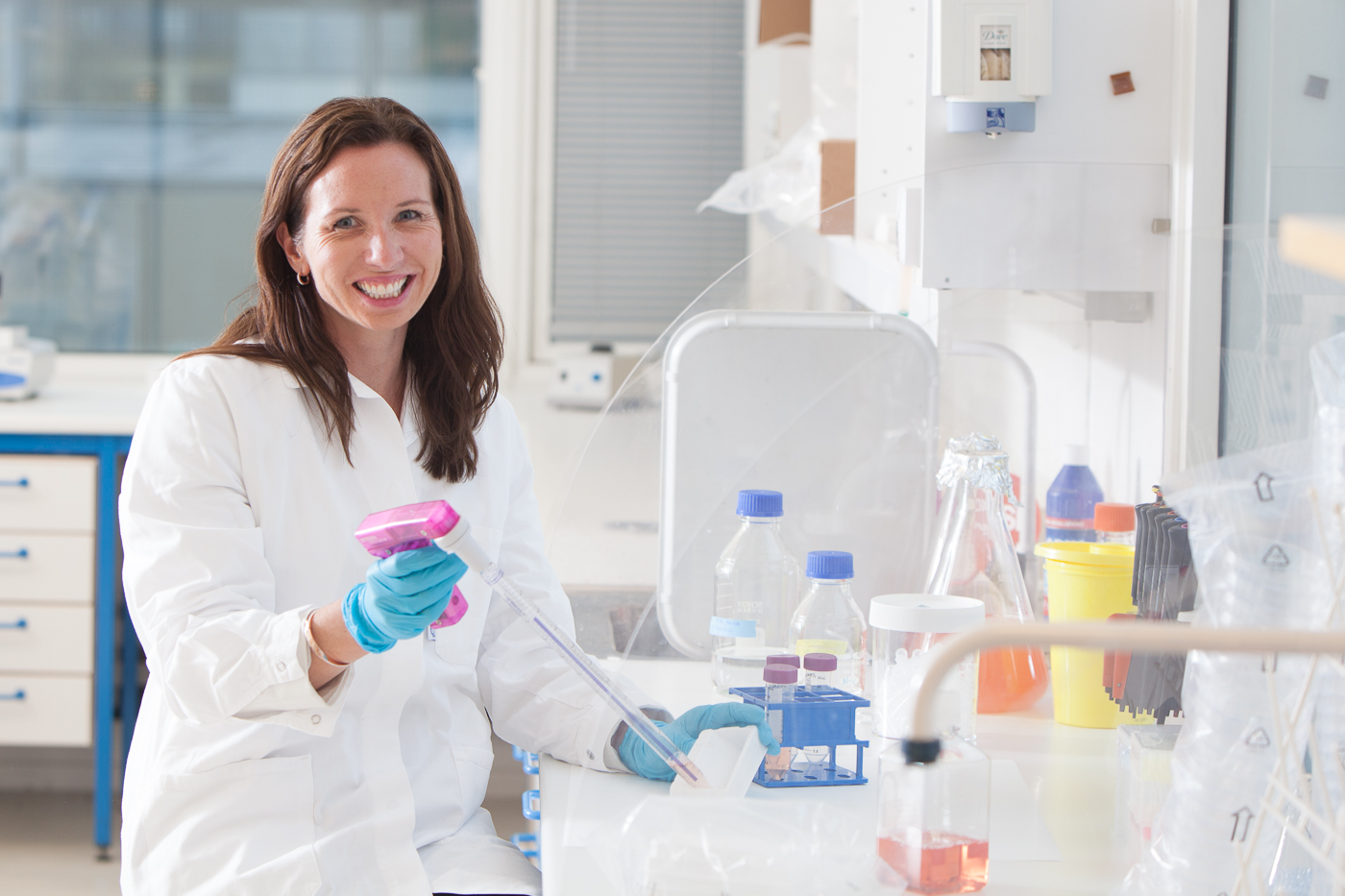 Photo: Vaccibody.
For Vaccibody, 2020 was the year in which it made a definitive breakthrough. A licensing agreement with the reputable biotechnology company, Genentech, gives Vaccibody the financial clout to realise the enormous potential of its technology platform, which is the backbone of the company. The goal now is to develop individualised vaccines for an extensive range of serious illnesses.
In every way, 2020 was Vaccibody's year:
The company landed the biggest ever licensing agreement in Norway with Genentech, a member of the Roche Group. Genentech is considered to be one of the world's leading immunotherapy companies and will collaborate with Vaccibody on the further development of a personalised cancer vaccine that Vaccibody has been working on for a number of years. The vaccine has shown promising results in phase I clinical trials for many different types of cancer.
Following the agreement with Genentech, Vaccibody was listed on the stock exchange, and the company is now valued at more than NOK 20 billion.
In addition to its focus on developing cancer vaccines for a number of different cancers, the company has launched a separate strategy for infectious diseases.
The company is making good progress with the development of a second-generation COVID-19 vaccine, which has a number of advantages over the vaccines that are currently being rolled out across the globe.
Most important agreement since Algeta
Referring to 2013 when the global biopharmaceutical company Bayer acquired Algeta for almost NOK 18 billion, Analyst Lars Mørland Knudsen of Arctic Securities calls the agreement with Genentech 'the most important agreement in the Norwegian biotechnology sector since Algeta'.
The agreement is a worldwide licensing and collaboration agreement on the development of personalised cancer vaccines based on Vaccibody's VB10.NEO vaccine.
'This is the best agreement that Vaccibody could have hoped for. The personalised vaccine technology has been licensed to Genentech and Vaccibody retains the rights to the rest of the platform technology and the product candidates. The agreement is the best possible validation of Vaccibody's platform technology. It shows the technology's potential to develop other types of cancer vaccines and vaccines for infectious diseases,' says Anders Tuv, chair of the board at Vaccibody and investment director at Radforsk.
It is a multi-year agreement and could release up to NOK 6.7 billion through prepayments, milestone payments and part payments. In addition to this, Vaccibody will receive royalties from product sales in the market.
Vaccibody's vaccine technology is based on research carried out at the University of Oslo and Oslo University Hospital by Professor Bjarne Bogen, who was awarded the Kong Olav V Cancer Research Prize by the Norwegian Cancer Society in 2020 for this research, and also on research by Professor Emeritus Inger Sandlie and the doctoral work of Founder, Head of Research and now President of Vaccibody, Agnete Brunsvik Fredriksen. Brunsvik Fredriksen was awarded the King's Medal of Merit in gold for her doctoral work in 2008, so perhaps someone had already recognised the potential there.
'The agreement shows that top-quality research from Oslo University Hospital and the University of Oslo can go far if it gets the right support in the early stages, has tenacious investors and a team that does the right things. Vaccibody has gained the trust of investors and Genentech over a long period of time, and this is important for their groundbreaking concept. They have listened to people with experience and have always delivered what they promised,' says Ole Kristian Hjelstuen, CEO of Inven2.
A global biotech company headquartered in Norway
The financial framework of the agreement with Genentech makes it possible for Vaccibody to realise the enormous potential of their platform technology.
The future strategy for the company is to develop individualised vaccines for a range of illnesses such as personalised cancer vaccines, other types of cancer vaccines and vaccines for infectious diseases like influenza, malaria and viruses that cause local epidemics or pandemics, to name but a few.
Brunsvik Fredriksen is really looking forward to this. She has always been aware of the possibilities.
On Boxing Day 2020, she was the Saturday guest on Dagrevyen, a news programme on the Norwegian channel, NRK, and she talked about her journey from doctoral research fellow under Professors Bjarne Bogen and Inger Sandlie at the University of Oslo, to head of research and president of the most valuable biotech company in Norway.
The road she travelled to get this far has neither been easy nor straight.
Nevertheless, she and CEO Michael Engsig are now in the extraordinary postition, where, based on their world-class research and diligence over the years and loyal commitment from a dedicated team, opportunities abound for them.
'We'd like Vaccibody to become a global biotech company headquartered in Norway. We have some role models in Scandinavia, and we're being compared with exciting global companies, so the next goal for us is to be put in the same category,' says Engsig.
Brunsvik Fredriksen fully agrees and adds:
'We have many major objectives, and we've set out a strategy going forward. We're ready to conquer the world! Our vaccine platform has been validated and can be used to develop a number of products, which means we can quickly become a major company with a large workforce'.
Working on a second-generation COVID-19 vaccine
When Vaccibody launched its strategy for infectious diseases in December 2020, it was announced that the company is making good progress with the development of a second-generation COVID-19 vaccine.
'When the pandemic broke out, we had discussions with our global network. We're very pleased with the results from our cancer vaccines, and several people asked us: "Aren't you going to help out too?" So we felt obliged to do so. However, there are only a few of us while our competitors have thousands of employees. Nevertheless, we're making progress,' says Brunsvik Fredriksen.
Our VB10.COV2 vaccine has a number of advantages over the vaccines that are currently being rolled out across the globe. These include that it can be stored at refrigerator temperature over long periods of time, and it only needs to be given once. It was developed by Gunnstein Norheim and his colleagues.
Norheim is director of infectious diseases at Vaccibody, and has been working on the COVID-19 vaccine with several other employees of the company since starting in Vaccibody on 1 April 2020.
'I moved to Vaccibody in order to develop vaccines, and it suited the work that was already under way,' says Gunnstein Norheim.
He previously worked for CEPI, the global coalition for the prevention of epidemics and pandemics, which has and has had a central role in the development of different COVID-19 vaccine candidates. Norheim has also worked at the Norwegian Institute of Public Health, where he worked closely with John-Arne Røttingen and others on the development of an Ebola vaccine in connection with the Ebola outbreak in West Africa in 2015.
World-leading, knowledge-based healthcare industry
In November 2020, Brunsvik Fredriksen received the Research Council of Norway's Innovation Award that honours research-based innovation.
Minister of Research and Higher Education Henrik Asheim, said in a press release about the award:
'Many congratulations to Agnete Fredriksen and everyone at Vaccibody on this well-deserved award that ensures a world-leading, knowledge-based healthcare industry for Norway.'
Brunsvik Fredriksen has donated the prize of NOK 500,00 to SPARK, the University of Oslo's innovation programme for health-related topics in the life science domain.
'It was fun, and I'm incredibly happy to receive the Research Council of Norway's Innovation Award. The Research Council of Norway has been a wonderful support throughout – from when we were doing basic research up to the current development stages. My colleagues and I needed the support we got while establishing the company. Using our technology, we can now save lives while also creating jobs for more than 50 knowledge workers,' says Brunsvik Fredriksen.
Media coverage of Vaccibody in 2020:
Podcast interviews with Vaccibody in 2020:
Press releases about the agreement and Vaccibody's future strategies: